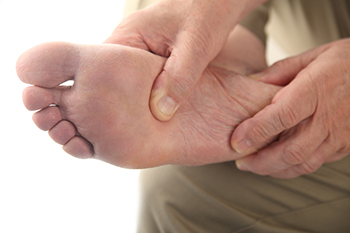 It is agreed upon by medical professionals that following a daily foot care routine is a necessity for diabetics. First, it is important to examine the feet and toes each day for cuts, sores, and bruises. Don't forget about the soles of the feet, which may be examined by holding a mirror to them. If you are unable to carry out this inspection, it is suggested that you ask a family member or caregiver to help. Look specifically for red, blue, or black areas on the feet. Redness can signal irritation from shoes that are too tight, while blue or black areas can be caused by bruising or blood flow problems. Blisters may be caused from the skin rubbing against the inside of a shoe. It is important not to pierce a blister. If it turns red, oozes, or doesn't heal after four days, it is wise to seek the help of a podiatrist. Washing and thoroughly drying the feet is essential as moisture between the toes can invite bacterial or fungal infections. If you notice sores that take a long time to heal, please consult a podiatrist as quickly as possible, as these may develop into ulcers. Diabetics are wise to have regular checkups with a podiatrist to monitor the health of their feet.
Diabetic foot care is important in preventing foot ailments such as ulcers. If you are suffering from diabetes or have any other concerns about your feet, contact Cary Golub, DPM from New York. Our doctor can provide the care you need to keep you pain-free and on your feet.
Diabetic Foot Care
Diabetes affects millions of people every year. The condition can damage blood vessels in many parts of the body, especially the feet. Because of this, taking care of your feet is essential if you have diabetes, and having a podiatrist help monitor your foot health is highly recommended.
The Importance of Caring for Your Feet
Routinely inspect your feet for bruises or sores.
Wear socks that fit your feet comfortably.
Wear comfortable shoes that provide adequate support.
Patients with diabetes should have their doctor monitor their blood levels, as blood sugar levels play such a huge role in diabetic care. Monitoring these levels on a regular basis is highly advised.
It is always best to inform your healthcare professional of any concerns you may have regarding your feet, especially for diabetic patients. Early treatment and routine foot examinations are keys to maintaining proper health, especially because severe complications can arise if proper treatment is not applied.
If you have any questions please feel free to contact our offices located in Williston Park, and Long Beach, NY . We offer the newest diagnostic and treatment technologies for all your foot and ankle needs.
Read more about Diabetic Foot Care