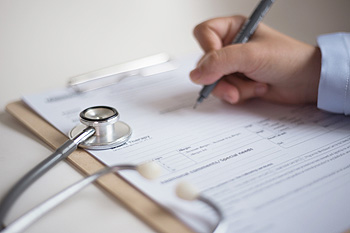 Podiatrists are doctors (specifically Doctors of Podiatric Medicine, or DPMs) who specialize in feet and ankle issues. Though these physicians focus on these lower extremities, their training can include other areas, such as emergency care and radiology. They often complete an internship and residency program for board certification. They must usually be licensed in the state they practice. Podiatrists deal with all sorts of issues related to the feet and ankles. Some of the patients they see have easily treatable problems, like corns, toenail fungus, plantar warts, and ingrown toenails, while others require more time and attention. Podiatrists will examine the structure of the ankles and feet and look for problems that can result in deterioration or infections. They can also create custom orthotics for those with painful foot ailments. Those who experience pain, numbness, or cramping in their feet, ankles, or lower legs might want to see a podiatrist for an examination, diagnosis, and treatment. This is particularly important for those with a pre-existing physical condition that affects the feet, including diabetes or circulatory problems.
If you are experiencing pain in the feet or ankles, don't join the stubborn majority refusing treatment. Feel free to contact Cary Golub, DPM from New York. Our doctor can provide the care you need to keep you pain-free and on your feet.
What Is a Podiatrist?
Someone would seek the care of a podiatrist if they have suffered a foot injury or have common foot ailments such as heal spurs, bunions, arch problems, deformities, ingrown toenails, corns, foot and ankle problems, etc.
Podiatric Treatment
A podiatrist will treat the problematic areas of the feet, ankle or lower leg by prescribing the following:
Physical therapy
Drugs
Orthotic inserts or soles
Surgery on lower extremity fractures
A common podiatric procedure a podiatrist will use is a scanner or force plate which will allow the podiatrist to know the designs of orthotics. Patients are then told to follow a series of tasks to complete the treatment. The computer will scan the foot a see which areas show weight distribution and pressure points. The podiatrist will read the analysis and then determine which treatment plans are available.
If you have any questions please feel free to contact our offices located in Williston Park, and Long Beach, NY . We offer the newest diagnostic and treatment technologies for all your foot and ankle needs.
Read more about What is a Podiatrist?